This is a conditioning treatment that I use to help protect my dog's feet through winter.  I usually start this treatment once a month starting in the beginning of October and continue through until all the salt is gone.  I also might use this treatment in the summer if the hot pavement starts to bother his feet.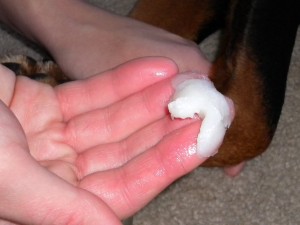 I prep his paws with a paw rub (wax would work too). I use a generous glob per paw.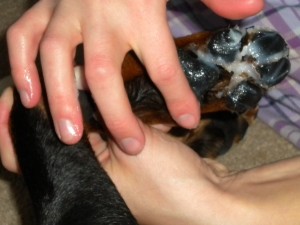 I make sure to cover all of his paw pads.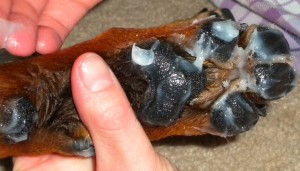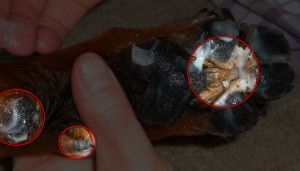 I make sure to get the paw rub between all of his toes as well as cover his stopper pad and the tiny pad of his dewclaw as shown in the circled portions of the picture above.  If you have a longer haired dog, you may not need to worry so much about the stopper pads or dew claw pads (or your dog may also be lucky enough not to have dew claws)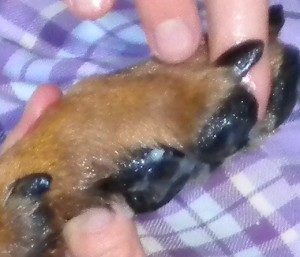 Try to also rub a small amount into the tops of feet and between toes here as well. Longer haired dogs will need this hair combed out so that it doesn't get matted.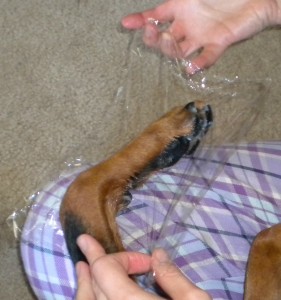 The next step is to wrap the paws in in plastic wrap so the rub has nowhere to go but into the paws.
Pull one side over, be sure with the front feet to cover the stopper pad if you treated it with rub as well.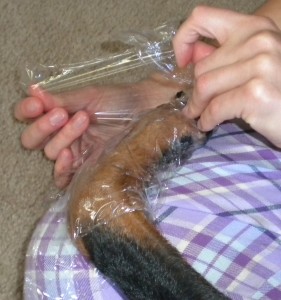 Pull the bottom flap of plastic wrap up over the paw.  Sharp edges of freshly cut nails will rip through the plastic wrap, so if you can not dremel the nails smooth, cut nails after this treatment.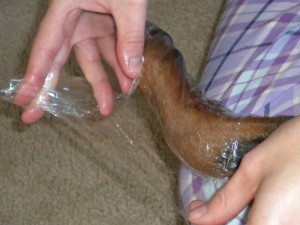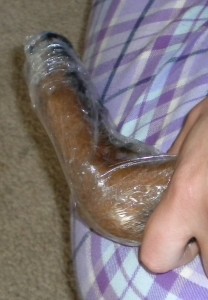 Pull the final side over to hold into place.  This doesn't have to be super tight. As long as the plastic is able to completely enclose the paw it will work just fine.

For this next part I use socks made specifically for dogs. I find that they hold nice and comfortably without being super bulky. Baby socks (two pairs, remember you have four paws to cover) work just fine as well. Larger socks tend to be very bulky and uncomfortable and draw more attention which can become a large hassle, however they would work if you can distract your dog enough. Warm up the socks for a couple minutes in the drier if you can so that the rub will absorb faster.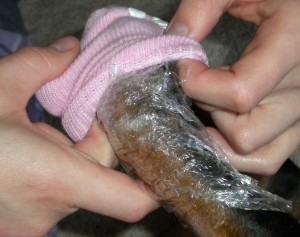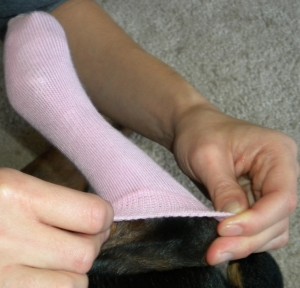 Pull socks on over the plastic wrap. Be sure to pull the socks up so they cover stopper pads.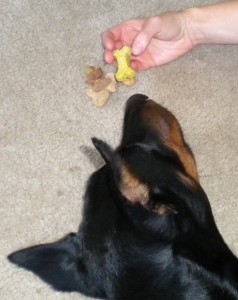 You may need to use some goodies to encourage your pet trough out this process.  I keep a variety of small treats handy to reward patient good behavior.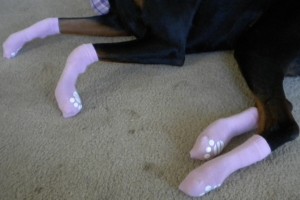 Once the socks are on, the warm body heat will help to soften the rub.  The plastic wrap creates a barrier so the the rub has to absorb into the paws. Now you wait for the rub to absorb.  Depending on size, product, and how warm the socks and your dog are, time will vary on how long it will take for the rub to absorb. When I first started this, I was lucky to be able to keep my boy distracted for ten minutes. Most all of the rub I was using would absorb just fine in that amount of time.  The longer you can keep the socks on the better though.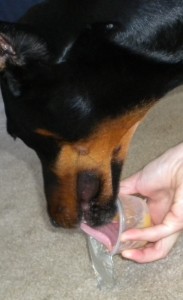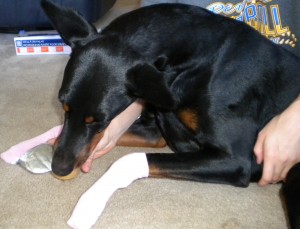 The only way I could keep my boy still when I first started this treatment was to provide what I call a Lick Treat. A lick treat is pretty basically what the name implies, a treat that the dog must consume by licking. I would use puppy smoothies, applesauce (often frozen so it lasts longer), a rubber toy filled with peanut butter or frozen broths.  Holding these for your dog to lick is often a very easy way to help desensitize as well.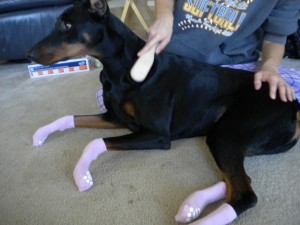 Now, usually I can brush his coat and teeth and just rub him down to keep him relaxed.  He has become so use to this treatment he will just snuggle right up and just enjoy the attention.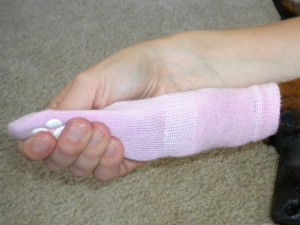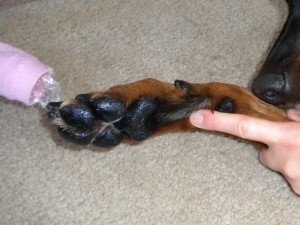 When you are ready to take the socks off, it is easiest to pinch the edge between the middle nails pulling tightly so that you remove the sock and the plastic all at once.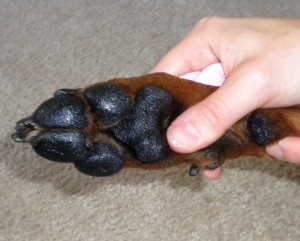 All of the rub is now absorbed leaving the paws soft and moist.  The absorbed rub creates a barrier inside the paw pads helping to keep irritants such as salts and lawn chemicals out of the skin.  Medicated rubs can also help heal cuts and relieve sore joint.  I pair this treatment by using Musher's Secret every day in the winter as well.