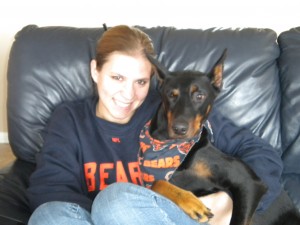 Well I guess I should start by introducing myself. I am a 30 year old from northern Illinois.  I came from a mixed family. My dad and step mom live in Central America, my mom and step dad live in Florida, and my brother and sister live north of Chicago near me.
I started grooming about 11 years ago through a big box store. I went to school through the company and was certified to groom both dogs and cats. I greatly enjoyed the people I worked with, however I hated the way the company was run. I did not agree with a lot of their policies. I felt the animals were put through a great disservice to save money and scam customers. The prices and packages were constantly changing. The products did not work properly unless used in large amounts. It was pure chaos most of the time.
I had many problems with the management after reporting employees hitting dogs and being laughed at for it.  That, along with the company not wanting to pay for my medical care when I got injured by a cat on the job, led me to quit. I got a job at a private groom shop outside of the contract area and I had to jump through hoops to get my old workman's compensation suit finished, but it was finally paid.
I loved my new work place. They cared for the animals and took great care of them. Dog Day Afternoon is a great little shop.  They do some very high quality work and are interested in furthering their business and skills. I loved working for them and still highly recommend  them to clients in the area.
I decided that I wanted a bit of a break from grooming and was hired to help manage a pet health food store that I had been buying dog food from for the past couple years.  I had always liked the store and the owner very much. It was a store I very much believe in due to it's focus on holistic foods. Sadly the store closed down not too long ago.
I am now working for a veterinary hospital close to my house. I had built a good business relationship with them from my grooming career. It was one of the only places I could take my own dog without him coming back completely stressed out.  I have known several of the staff members for a long time and have been very impressed to see the direction the hospital has taken over the last few years.  I provide grooming services for many of the staff members there through my own grooming business The PawFurred Style.
I had a beautiful Doberman Pinscher named Renegade. I got him while living in Honduras for a few months after high school.  He had a rather rough start to life as a puppy coming from the bad part of town.  He was malnourished and had a lot of problems when he came to me at 8 weeks old.  He took a lot of work to get on the right track.  Due to his rough start he had bad skin, allergies, and digestive sensitivity his entire life.  I had many challenges finding the right balance to keep him healthy. I had read a lot about raw diets and had been supplementing his diet all along with raw ingredients.  After a couple years of trying to get his healthy problems under control, I made the switch entirely to raw. Renegade loved the food and under good care blossomed into a beautiful dog.  He was a very good boy, but rather head strong at times. He was my constant companion for 12 years until he became ill and we said goodbye 10/11/2015.
Caribou, my little Ragdoll cat, was found outside a local coffee shop which she is named after.  She was only a few weeks old.  She was brought into the veterinary clinic on Black Friday 2012. When no one claimed her, she became the beautiful fluffy little tornado that is always into something.
Steve and I met at our 10 year high school reunion. Our first date was watching the Blackhawks win the 2013 Stanely Cup. Everyday he is there for me, even when I am at my lowest. He keeps me sane when I am overwhelmed.
Steve and I adopted a little Siamese kitten Black Friday 2013. The second Black Friday in a row where a kitten found it's way into my life. She is sweet and gentle, the complete opposite of Caribou.
My family lost my 15 year old baby sister in June of 2011 to a very tragic accident.  It has been a very hard time for all of us handling the loss of such a passionate girl and her dog. Everyday is a challenge but we are looking forward and have created